Gartner: 12 Questions For Evaluating Your Convergence Vendor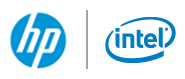 Use the checklist in this research to derive a weighted analysis and to score whether fabric-based integration solutions should be a priority for your enterprise, or relegated for later pursuit.






Intel® and the Intel® logo are trademarks of Intel® Corporation in the U.S. and/or other countries.

HP is the sponsor of this material. By submitting your information you agree to be contacted by HP on topics of interest. Before deciding please review HP's privacy statement.
Sponsor: HP and Intel®