HP ConvergedSystem 300 for Virtualization Solution Architecture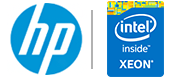 HP ConvergedSystem 300 for Virtualization has been designed to address one of today's top priorities for IT organizations - deploying applications faster through virtualization but in a way that does not increase IT complexity.

Intel, the Intel logo, Xeon, and Xeon Inside are trademarks or registered trademarks of Intel Corporation in the U.S. and/or other countries.

HP is the sponsor of this material. By submitting your information you agree to be contacted by HP on topics of interest. Before deciding please review HP's privacy statement.
Sponsor: HP and Intel® Xeon® processor